---
Community-driven coworking and business acceleration
---
---
Crazy Town is a community of 200 companies and teams that cooperate, learn new and grow their business together.
Our members include a mix of solopreneurs, micro-sized companies, startups and teams from larger organizations, since we believe that having a diverse member base is key to having an enriching community.
Crazy Town community is operating also virtually - see here!
---
We operate four coworking sites in Finland. For us, "coworking" means community for work and learning
> JYVÄSKYLÄ
> TAMPERE
> PORI
> HÄMEENLINNA
---
The story Crazy Town started out in 2002 with the realization that an essential skill for any business is the ability to cooperate with others, share resources and learn rapidly new skills.
That is why we organize more than hundred events annually, including open events that anyone can participate.
---
We consult universities and regional developers on topics such as  univeristy-business-cooperation, coworking and innovation hubs.
We also organize idea campaigns, hackathons, talent matchmaking and facilitated workshops.
---
We put a lot of effort on building a supportive culture within our communities. Each one is headed by a community manager / facilitator, who helps our member companies to collaborate.
We have dozens of in-house VCs, growth and funding specialists to help our members.
We also operate entrepreneurship programs and trainings.
---
---
Our community managers facilitate each location and help our members to make most out of the experience
---
Coworking membership offering at all Crazy Town locations
---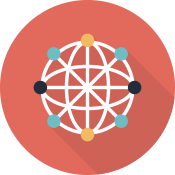 GROWTH 

People-driven business acceleration. More sales, teaming up with other entrepreneurs, joint-projects and a thriving internal market, where more than 85% of our members do business together.
SKILLS
Hundreds of professional events, content, peer-learning with other members.
COMMUNITY
A supportive community and colleagues. You're not alone. We build and facilitate professional relationships between our members. Our community managers help everyone to make use of the platform.
SPACES
Our locations provide everything that a knowledge-intensive business needs. Every membership provides access to our spaces.
---
---
Regardless of your membership package, you always get 24/h access to common areas, meeting rooms and event spaces, as well as access to all Crazy Town communities and We+ network.
---
HOTDESK
/ month + VAT
Full membership offering
24/h access to common areas in your home community + access to other locations
Unlimited use of event spaces and meeting rooms
No deposit, 1 month notice period
Pricing per person
FIXED DESK
250 - 350 eur
/ month + VAT
Full membership offering
Own desk, 24/h access to common areas in your home community + access to other locations
Unlimited use of event spaces and meeting rooms
2 month deposit, 3 month notice period
Pricing per person
TEAM
660 eur -
/ month + VAT
Full membership offering
Own room, 24/h access to common areas in your home community + access to other locations
Unlimited use of event spaces and meeting rooms
2 month deposit, 3 month notice period
Pricing per organization
Crazy Town locations across Finland
Jyväskylä
Kauppakatu 39
40100 Jyväskylä
Hämeenlinna
Raatihuoneenkatu 21-23
13200 Hämeenlinna
Tampere
Rautatienkatu 21 B
33100 Tampere
Pori
Rautatienpuistokatu 7
28130 Pori